A226b hard reset
If your smartphone A226B (Samsung Galaxy A22 5G)  works very slow, it hangs, you dont remember screen lock (pattern, pin, password), or you have a full memory, and you want to erase everything, or you want to sell it or give it away and you want nobody to be able to access your files and passwords you can do a factory reset so that it returns to be like the first day.
In the following steps we explain how to hard reset A226B (Samsung Galaxy A22 5G) so that to erase all your information and make it totally clean as it came out of the store.
Before you hard reset  your A226B (Samsung Galaxy A22 5G)  it is  recommended to  delete all the accounts on the device, specifically it is useful if you are going to sell, donate or give away your Samsung Galaxy A22 5G (A226B. In this way we will avoid problems for the new user since some More modern devices include a functionality called FRP or Factory Reset Protection that requests the same Google account with which your phone A226B  Samsung Galaxy A22 5G  was initially configured when factory restoring a device.
You must bear in mind that a hard reset or factory reset in a cell phone  will delete all its content, so you must make a backup of your data before doing it if you do not want to lose everything.
There are two ways to  reset A226B one through the mobile options and another more complete from the recovery mode.
power off your samsung A226B
click and hold power button and volum up till recovery is shown
select by volum down "wipe date / factory reset"
select by volum down "factory data reset "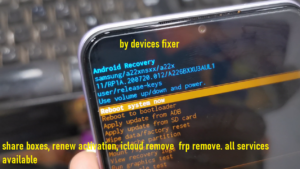 read more specs about a226b